Hmm...is Min-ho recruited as a teacher or an advertising exec?
Anycall Haptic Mission

is an advertising campaign that brings together

Son Dambi

and

Boys Before Flowers

actors Kim Bum, Kim Hyun-joong and Kim Joon. Haptic Mission adopts the concept of reality tv where the celebrities become employees of Anycall Corporation.

In season 2, Lee Min-ho will be joining the mission while Kim Bum leaves to be with LG. The start of season two will be on May 27. It has been said that season 1 was a huge success - although i got a bit bored watching the videos. I bet in season 2 things will start to really get exciting with the arrival of Lee Min-ho as an employee at Anycall Corp. (but of couse i'm saying this because i'm biased). And the person whom i think could rival Min-ho as best employee with his panache and confidence has left the ad campaign. You all know who i'm talking about. ;-)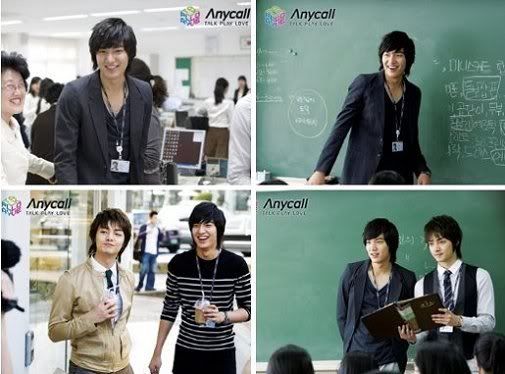 Min-ho joins Anycall Corp...and suddenly Orchid is interested in the Haptic Mission
In the drama Boys Before Flowers, Lee Min-ho's character (and also the rest of the main cast actually) uses the Anycall mobile phone model SCH-W750. Since the launch of the product, 250, 000 units of the mobile phone has been sold.

Samsung is very pleased with this and is confident that the charming Min-ho will be a good representative to express their stylish brand. Thus, Samsung Electronics is looking forward to Min-ho's participation in the series of ads that will make up Haptic Mission season 2.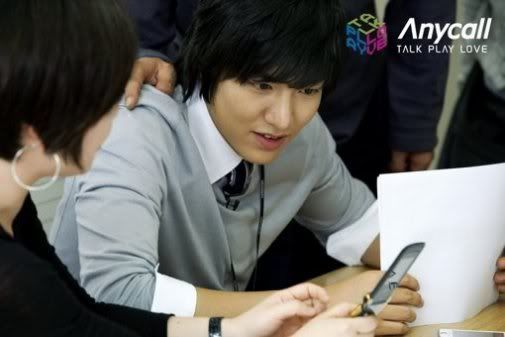 Marketing gimmic? Easy, as long as I use this phone, the people will buy.
Check out the season 2 teaser video...






If you are like me and didn't pay much attention to this ad campain in season 1, here's what you missed... * yawns *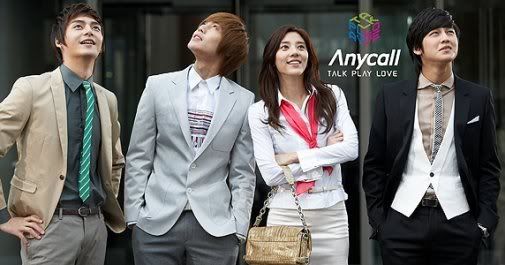 Will this be our new office? Anycall Corp?



In season one, Kim Bum, Kim Hyun-joong, Kim Joon and Son Dambi receive documents telling them that they have been selected to become employees in the Advertising department at Anycall Corp. Their stint at the company would last for eight weeks.

They each vow to work hard and determine in their hearts to be the best employee. To select the best employee, they each have to go through an interview. There are no English subtitles available for the interviews, but there's one Westerner in the panel and he asks the questions in English. I find this the most amusing and it looks like Kim Hyun-joong's command of the English language is the worse among them all. He even interpreted the question wrongly. Hyun-joong is also fluent in Japanese but he was really nervous when he found out that they will be asked questions in English.
Haptic Mission Season 1 Teaser

Haptic Mission Season 1 (version 1)