Let's relax and have a spot of tea shall we?
Kim Joon & Lee Min Ho at Gu Hye Sun's Tango Art Exhibition
Gu Hye Sun

's paintings look like art work accomplished by dipping string into a pot of paint, laying the string onto a sheet of paper, fold the paper in half, then pull!
Of course, her paintings are much more elaborate and delicate than what i just described and i don't think she created them that way. But they looked like that to me at first glance. If she didn't use the

dip - fold - pull

method, then i assume those art work would take up a lot of time - painting those feathery strokes! She's a genius! (Rooster, please insert expert comment whenever you feel like it.)

Gu Hye Sun's Tango art exhibition opened on 01 July at La Mer Gallery in Insadong, Seoul. Her work consists
of 42 paintings all made in her chosen hue - the colour blue.
Gu's

Boys Over Flowers

co-stars

Lee Min Ho

and Kim Joon attended the exhibition and happily viewed the pictures while Gu provided them with brief descriptions of each.
Multi-talented Gu has also published a book of the same name. It's great to see them supporting each other and attending events after working together in the hit drama, BOF.

More pics after the jump...
Yo, yo...Kim Joon - my man! I'm so glad you came.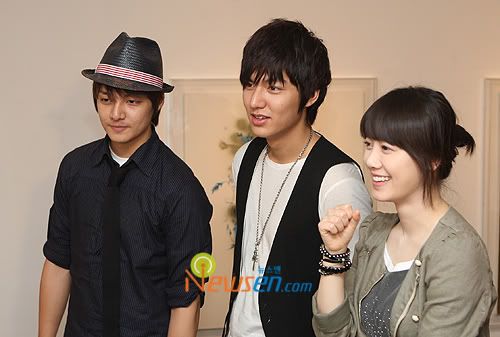 Kim Joon looks doubtful Hye Sun painted that and
suspects she uses the dip - fold - pull method.
Gu explaining her work
Gu Hye Sun with one of her works at La Mer art gallery, Insadong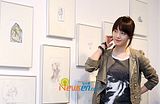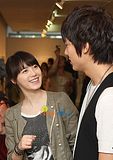 Source and pics credit: Newsen

More on Gu Hye Sun...