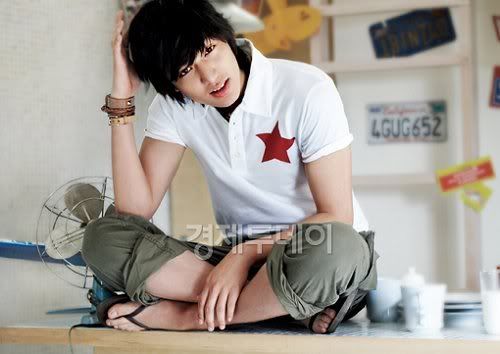 Wanna spend a lazy day at the beach with me?
After returning from a Boys Before Flowers promotional trip to Japan,

Lee Min Ho

jumped right back to work. First up was a CF shoot for Levi Strauss at a beach front location. Min-ho and model

Mun Chae Won

donned the denim brand's casual line "Signature" for Summer 2009. The concept for the photo shoot was "breezy travel" featuring comfortable clothing such as t-shirts and cargo pants.

Now i want one of those Levi's polo tees with a giant star printed on it!
Lee Min Ho looks uber cute and relaxed in these pictures...
Oh is that Liz i see frolicking on the beach?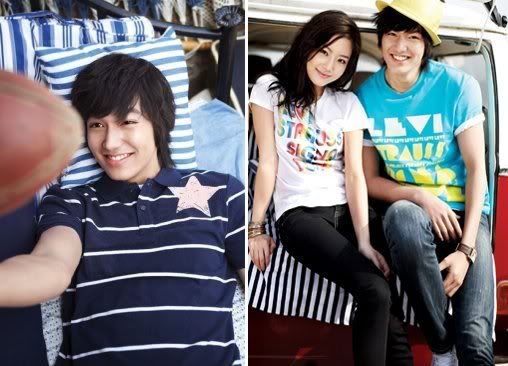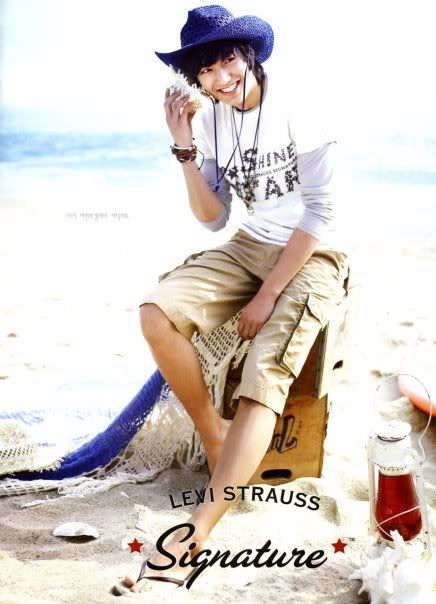 On to yet another bit of news on LMH...

Etude House

's CF is out!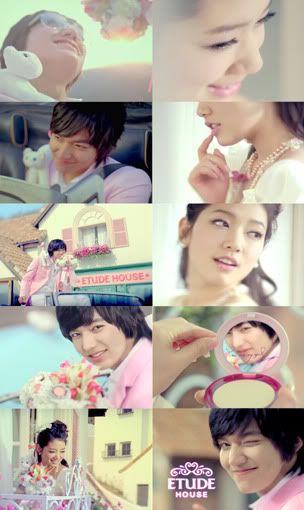 Lee Min Ho gives a killer wink in the Etude House CF

They say real men wear pink but that baby pink jacket and fluff toy cat (My-cat) on Lee Min Ho's shoulder is a wee bit too pansy for me. Not to mention he's obviously wearing Etude House's pink lipstick - in a shade even I wouldn't go near! Ewww....hahaha.
Lee Min Ho and fellow Etude House model Park Shin Hye appears in this 30s commercial feature called 'My Girl TV-CF' which was shot in Thailand. Although i don't understand why they needed to fly all the way to Thailand to film this. There are no tropical Thai elements in the CF. At least not that i can see.

This new CF will be broadcast via Korea's cable TV and 25 of Korea's Internet sites.

On May 1st, a special limited edition Lee Min Ho autographed My Girl compact will be available at Etude House outlets (in Korea!).



CF sugar level - EXTREMELY SWEET - not suitable for diabetics and Lee Min Ho non-enthusiasts. Watch at your own risk!
Sources:
Osen
,
Breaknews
You might also like:
Lee Min Ho's digital single - Cass Beer CF
F4 Interview: Lee Min-ho
Lee Min-ho interview on SBS Entertainment Weekly