FIGHTING! They need a lot of support to make it...
Jeon Hyosung, Song Ji Eun, Zinger and Han Sunhwa of Secret were at Kyobo bookstore, Jamsil Songpa-gu Seoul today promoting their 2nd mini album entitled "Madonna".
Fighting! It's difficult to make it in the highly competitive entertainment industry and Secret is currently being plagued with accusations that their track "Madonna" is plagiarized from another song.
Tracklist:
01 Madonna
02 랄랄라 (La La La)
03 잘해 더! (Do Better! Feat. Baek Chan of 8eight)
04 줄듯말듯 (Hesitant)
05 자리비움 (Away)
Watch Secret's Madonna MV
: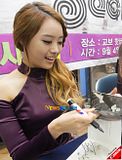 Via:
Newsen
&
KoreaKpop.com
Pics credit: Newsen