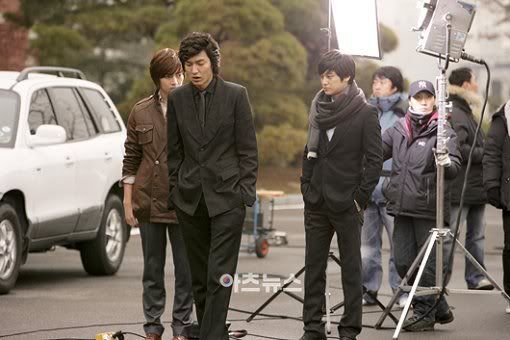 Lee Min-ho: "Hey guys, hurry up with the filming, i've gotta leave
the country for an overseas CF shoot -빨리!"
Since

Boys before Flowers

- the Korean drama was such a huge hit, they have decided to release a 25-minute music video portraying what happens five years after the drama left off. Aiyah....WE WANT A MOVIE yes? ;-) Not 25 minutes

without

Geum Jandi!
Lee Min Ho

,

Kim Hyun-joong

,

Kim Bum

and

Kim Joon

got together (my guess is for a day of shooting) to bring you this music drama (extended music video). It was reported that the music drama was filmed in secret - i guess they did not want the fans to disrupt and perhaps delay the shooting because we all know the boys are extremely busy.
Release date : April 28
Find the special edition Music Drama on

www.mnet.com



Source:
Artsnews
Check out:
Lee Min Ho cool in Levi's but sickeningly sweet in Etude House
Kim Joon & Jang Na-ra wear André Kim
Kim Hyun-joong kicks off Seoul Fashion Week
SoEul in Anycall Bodyguard MV CF