ss501 at Don Quixote in Roppongi, Tokyo Japan!
Hmm...it looks like

Boys Before Flowers

star

Kim Hyun Joong

spent more time with his

ss501

band mates than with is co-stars during the popular drama's promotional trip to Japan.
I don't blame him though, 'cos he must be missing bonding time spent with his "brothers". The five member band had not been doing things together for awhile because Hyun-joong was working on the drama BBF and Park Jeong-min was in the musical Greese.
ss501 spent 2 days and 1 night touring Tokyo and visited districts like Roppongi, Shibuya and Harajuku. They enjoyed great shopping, eating all sorts of delicious food (like yummy ramen) and totally enjoyed soaking in the sights and sounds of Tokyo.

Here, take a look at the photos.
Dining at a restaurant near Tokyo Dome Hotel (where the BBF entourage stayed)
Eating delicious crepe (notice person on left wearing
grey t-shirt in background - their manager!)

Park Jeong-min picks a sweater in a shopping center in Roppongi
Street Gift : Kim Hyung-joon gives Park Jeong-min a birthday gift
Eating Ramen at Azabu Ramen Ramen
In front of Tower Records in Shibuya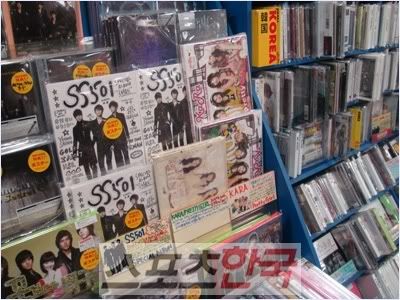 So happy to find ss501 albums at Tower Records (the Korean Corner).
Also found albums by Kara and the Boys over Flowers OST
Excited, they took a pic with the albums
Is Kim Hyun-joong camera shy or is he behind the camera most of the time?! Notice he is hardly in the photos.
Source:
Hankooki
Also check out:
Korean F4 on Japanese talk show
F4 - AIRPORT - ON THE WAY TO JAPAN
More on ss501!