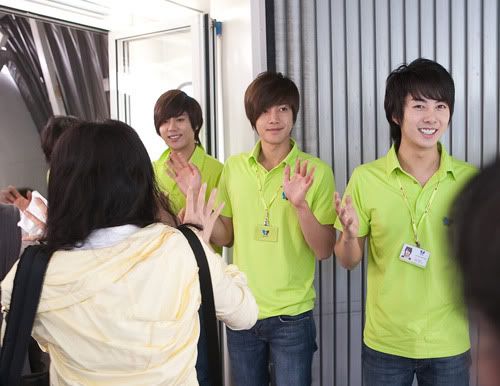 Welcome aboard Romantic Sky airline's flight ss501!
Cabin crew on board: Kim Hyung Joon, Kim Kyu Jong,
Heo Young Saeng, Kim Hyun Joong and Park Jung Min
Oh I am so excited about

Romantic Sky

. Why am i excited? Imagine, your favourite member of your favourite boy band, serving you on an air plane ride to Jeju island! Then on the island you attend a fan meeting and they sing for you. That's what happened on ss501's Romantic Sky event. The video footage and pics are finally out!
Here you go, some tranquilizer to keep you calm for the entire flight...
On the 2 and 3 May, two chartered planes flew excited fans to Jeju Island. Fans comprised of Korean and Japanese fans. Two flights, Gimpo - Jeju and another one from Busan- Jeju ferried fans to the fan meeting. ss501 five members were divided into two groups on board each plane, to serve the fans. They even did a crew in-flight safety demonstration (Safety Demo) for the guests. Talk about professional cabin crew! Well, safety is important so they needed to learn how to give the demo.
They then held an outdoor garden party at KAL Hotel. Reports had it that it kept on raining, so the weather wasn't that great at the event.
Kim Hyun Joong is all smiles even though the weather was fowl...I love my fans man!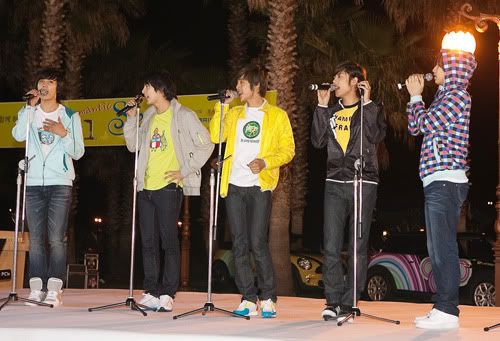 We are definitely your men!

Kim Hyun Joong at the indoor event -
I'm so touched you all came on our flight!
Here's the video clip of the event on M.net. (Video credit: skypoem)



Source: Chosun.com



View more entries on ss501