What has Rain (real name Jung Ji Hoon) been up to? Apparently a lot! Check out the Energizer Bunny's recent and up and coming activities.


Rain, the new Korean food ambassador being fed some

tteokbokki (I think...what else can it be? Pumpkin sausage?)
Ambassador for Korean food
On

13 July

, Rain was at a Korean Ministry of Food, Agriculture, Forestry & Fisheries event in which he was appointed Public Relations ambassador for Korean food. At the appointment, Rain said, "Chinese and Japanese cuisines are more popular abroad compared to Korean cuisine. Thus, I want to publicize the health benefits of Korean food so that people all over the world can enjoy kimchi and tteokbokki."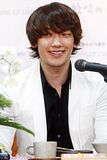 Rain & Manchester United
We have all been wondering if Rain will actually don a soccer jersey and really get onto the field for a soccer match with the

Manchester United

team. Answer...oh yes he will! Rain and his team will take on Manchester United at a charity match on

23 July, 2009

. According to Rain's management company J. Tune Entertainment, Rain's team will consist of soccer players from "Boy's House". All proceeds from the friendly charity match will be donated to youth services.
Rain & Kwon Sang Woo on same stage
Rain and

Kwon Sang Woo

- wow, at one point, these two were my top favourite Korean males. Anyway, both Rain and Kwon will be making a guest appearance at

Yiruma & Baekga's

concert. The concert will be held on

25th July

. Rain will appear because he is Baekga's (rapper and photographer) good friend. Kwon on the other hand, is related (via marriage to Son Tae Young) to Yiruma.
Legend of Rainism
Rain has announced that he will be embarking on an Asian tour soon. The tour will take him to Japan, China and Southeast Asia.

Legend of Rainism

will kick off in Japan on

29

and

30 August, 2009.




Rain kicks off his Asia Tour in Japan.
For more, go to:
http://rain2009.jp/

On top of all that, let's not forget the fan meeting with the theme "Peace" on

26 July, 2009

. Boy, he's a very busy man isn't he?

Source: Myjungjihoon, Hankooki



More news on Rain!